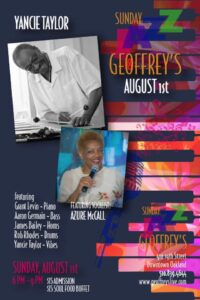 Geoffrey's Inner Circle in Oakland is open after the pandemic! Please join us this upcoming Sunday:
Sunday Jazz at Geoffrey's August 1st at 6-9pm
With Yancie Taylor (vibes) featuring Grant Levin (piano), Aaron Germain (bass), James Bailey (horns), Rob Rhodes (drums)
Featuring vocalist: Azure McCall
Geoffrey's is a landmark in Oakland, the club's owner, Geoffrey Pete, has been a mainstay of the Oakland music scene since the 1970s. Please read if you may consider supporting the Geoffrey's Inner Circle Historical Site Fundraiser.