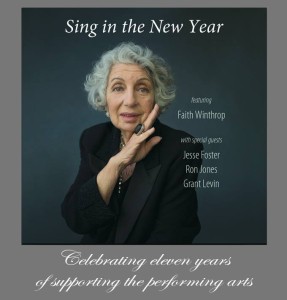 Performance Showcase 2015 presented a special "early evening" of song and storytelling for New Year's Eve, featuring renowned singer Faith Winthrop. Faith's storied career includes sharing the stage with Vince Guaraldi, Billie Holiday, Tony Bennett, Barbara Streisand, the Basie Band and Mel Torme.
Special guests at this event was vocalist Jesse Foster, story teller Ron Jones and grand pianist Grant Levin.
A summary like this afterwards, is a joy to receive. Thank you.
"Happy New Year and a huge thank you to last night's jazz and storytelling performers! Faith Winthrop is a legend — she is loved. Jesse Foster's voice is like a graceful dancer. Ron Jones gave one of his best performances ever. And people could not stop talking about Grant Levin Pianist. Performance Showcase is grateful for these artists and everyone who turned out to celebrate New Year's Eve. Many thanks and creative blessings to you in 2016. Photo by Kate Aragon."