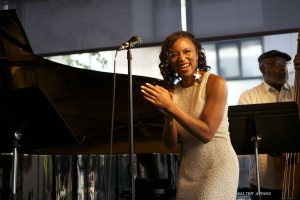 Vocalist Tiffany Austin and her band Howard Wiley on saxophone, bassist Ron Belcher, drummer Sly Randolph and pianist Grant Levin took the stage at SFJAZZ's Joe Henderson Lab to celebrate her debut Nothing But Soul (Con Alma Music) June 12, 2015.
From the review by award winning photographer and writer Walter Atkins in All About Jazz, published June 16:
"For the finale, the smiling vocalist gave the people a choice, "nice and rough or nice and easy." She added, "Y'all asked for Johnny, gotta clap." Austin went into Johnny Cash's 1956 Billboard Hot Country # 1 hit, "I Walk The Line." On this bustling arrangement, Austin's energetic voice swirled around the lyrics, giving them new life. The band just cooked while the pianist rolled. This ultra hip version of "Walk" had The Man in Black smiling."
Read it all here.
Photo credit: Walter Atkins