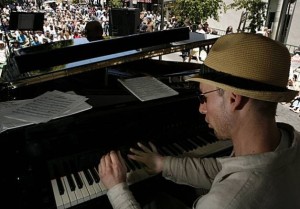 "The Fillmore Jazz Festival, in its 26th year, is billed as the largest free music fair of its kind on the West Coast. Nearly 100,000 spectators are expected over the Fourth of July weekend – the festival continues today – and more than two dozen bands were lined up.
The music is mostly jazz, of course, plus gospel and rhythm and blues, and bands with Asian, Cajun, Latin and other ethnic influences. […] Read more
Photo: Pianist Grant Levin plays the piano as part of the Dave Rocha Quintet during the Fillmore Jazz Festival on Saturday, July 3, 2010 in San Francisco, Calif.