This coming week, Grant Levin will give it all at Black Cat. In 8 different shows during 8 days, you can enjoy his music performed with both local and stellar musicians visiting the Bay Area.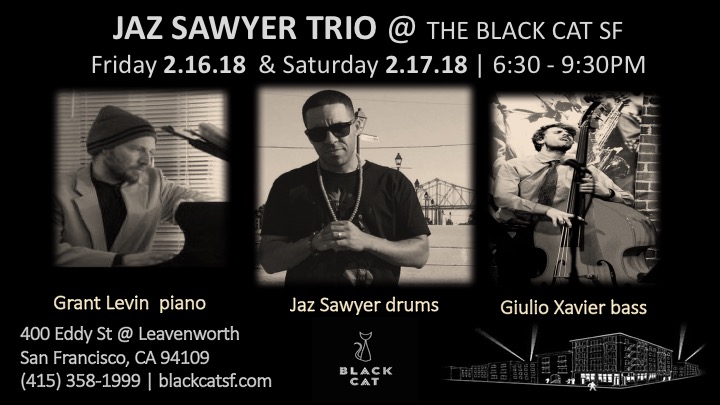 For the early birds,  Grant Levin will be playing the early sets at Black Cat with Jaz Sawyer Trio this Friday and Saturday February 16 and 17 starting at  6:30pm.

LA PERCUSSION STAR JAZ SAWYER AND HIS TRIO
Jaz Sawyer (with one "Z") began playing drums at age of 2 in the Haight Ashbury district of San Francisco, California. His musical studies has taken him through the music programs at the Ruth Asawa School of the Arts, San Francisco Conservatory of Music, Stanford Jazz Workshop and The New School for Jazz and Contemporary Music.
Read more here.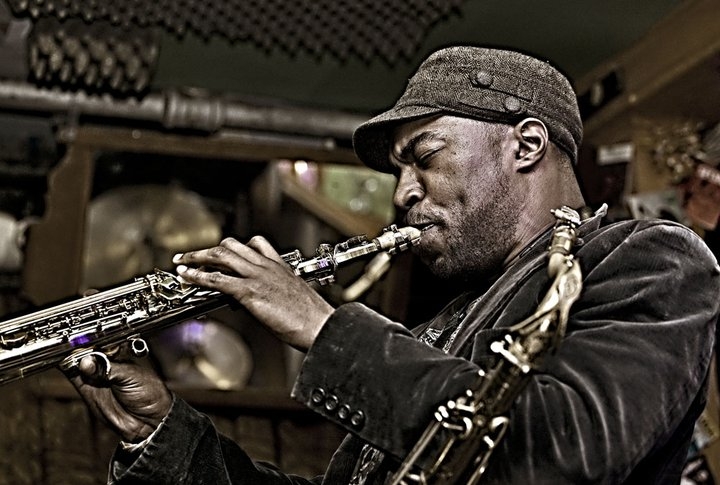 Starting tomorrow, February 13, you can enjoy Grant Levin with the Stacy Dillard group at Black Cat SF all night long from 7pm, followed by the late evening shows Thursday February 15th-Sunday February 18th.
FROM NYC – SAX POWERHOUSE STACY DILLARD
Stacy Dillard, raised in Muskegon Heights, Michigan, started playing the saxophone at a rather late age. In his hometown, there isn't much music happening, but only Robert Moore, Stacy's band instructor, and a host of close friends. Athletics was a big part of his life, leading to the late start on the instrument. Stacy attended college at Central State University in Wilberforce, Ohio to study with Dr. William Denza, Jim Smith, Chris Berg, and Lenard Moses. Very quickly, Dillard acquired the necessary knowledge that would soon put his name out on the local scene. It was a run-in with Wynton Marsalis in Dayton, Ohio that would turn his attention to the New York Scene. After graduation, Stacy took the act to Cincinnati, where he stayed for a short time and made his first recording appearance with Mike Wade on trumpet, drummer Melvin Broach and pianist William Menefield. Maturation was very rapid, finally leading the way to New York.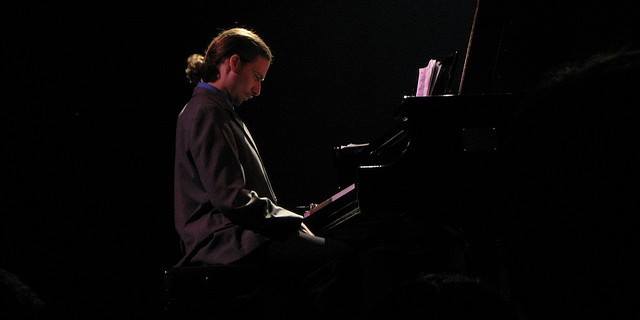 Topping it off, Grant Levin will close out with the last show Tuesday February 20th, bringing his own trio to the stage. Starting at 9:30pm a jam session with samba tunes…
THE GRANT LEVIN POWER SAMBA ENSEMBLE
Join us for a night of the bay area's best musicians jamming!
Grant Levin is a San Francisco-based contemporary pianist and composer who performs in various configurations from intimate settings to concert halls and festivals. His style showcases the piano as an infinitely dynamic instrument, allowing the listener to experience the sonic blend.
Levin has worked with numerous renowned musicians including: Noel Jewkes, Dayna Stephens, John Santos, Eric Wyatt, Jerry Dodgion, Howard Wiley, Stacy Dillard, and many other greats. He also had the honor of performing with late greats: Bishop Norman Williams, Pete Yellin, Terrance Tony, and Vince Wallace. He has performed at notable music venues such as: Joe Henderson Lab (SFJAZZ Center), Black Cat (SF), Bird and Beckett (SF), The Soundroom (Oakland), Mildred Owen Concert Hall (Pacifica).
See the full itinerary with upcoming shows here.