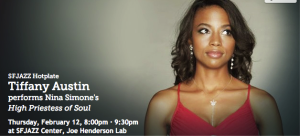 Grant Levin has been invited to join Tiffany Austin as she performs Nina Simone's High Priestess of Soul at part of the SFJAZZ Hotplate Series.
There will be two shows Thursday, February 12, at 8pm and 9.30pm at SFJAZZ Center, Joe Henderson Lab. Tickets are for sale now – get yours here. The last performance SFJAZZ Hotplate: Miles Davis' 'Kind of Blue' was sold out.
SFJAZZ Hotplate is a monthly concert series at the Joe Henderson Lab featuring Bay Area's most gifted musicians re-imagining a famous recording of a jazz legend. The 2nd Thursday of every month, Hotplate aims to show another side of SFJAZZ, an informal setting where you can drop in for a drink and hear some of the best jazz the local scene has to offer.