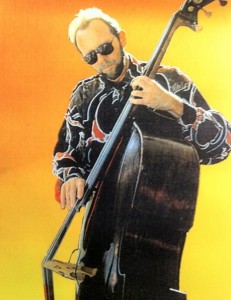 Chris Amberger
In 1975, he toured Latin America with Cal Tjader and Rosemary Clooney. In 1976 he toured the U.S. Eastern and Western Europe with Art Blakey and the Jazz Messengers. Their performance at the June 1976 Ljubljana Jazz Festival was made into a record. From 1976-1978 he toured the U.S. and Canada with the George Shearing Quintet.
During the time he was touring, Amberger was the on and off house bassist at the legendary North Beach jazz haunt Keystone Korner where Rahsaan's tour de force "Bright Moments" was recorded live in June of 73.
In the last 30 years worked and recorded with a variety of jazz artists including: Richie Cole, Joe Lovano, Buddy Montgomery, Randy Vincent, Kenny Burrell, Wycliffe Gordan, Benny Barth etc. He is also a member of Grant Levin Trio.